What I do
I offer conscious movement and Restorative Yoga classes, private sessions, workshops and retreats here where I live in Nelson, New Zealand.
My practice and teaching  come from a somatic place of listening deeply within, which is a skill that I have developed over 20 years of practicing and teaching yoga with support from the teachers featuring in the image below. I have been blessed to have studied in depth with Donna Farhi and through her guidance have been opened up to a truly loving and sustainable practice. She also introduced me to Restorative Yoga which has become one of my staples and I love to share it with my community.
With nearly two decades of yoga practice under my belt I feel so grateful to have had a practice to guide and support me through some challenging times, especially as a mother, as well as delight in and appreciate the good times.
My Journey
My early years of Yoga inspired me on an amazing journey through Europe and India encountering many international teachers, studying the physical as well as the philosophical teachings of Yoga. I love to go back to the Yoga Sutras over and over again but my true love is the Tantric teachings of Oneness. I am learning more and more about these non-dual texts through the teachings Dr. Richard Miller and his offerings of Yoga Nidra and Meditation which is based on Kashmiri Shaivism. I am proud to say that I am a fully certified iRest®teacher.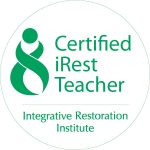 Gratitude to my tribe
I have made many friends along the way and particularly want to acknowledge my great sounding board yogi Lynda Miers Henneveld who has advised and supported me in all things yoga and family for more than a decade. I am also in constant gratitude for my yoga tribe including Karla Brodie, Neal Goshal, Melissa Gardiner and Lisa Petersen as well as my students who are all working somatically and compassionately.
I hold dearly my 'Mastermind' buddies Anna Wilde and Nicola Galloway with whom I meet biweekly to share and sound out my ideas for teaching and sharing these practices.
My biggest teachers and supporters however, are my beloved partner Rob and lively sons Eli and Sol. Thanks for all that you bring to me my boys.
Through my work I hope to guide people into valuing themselves enough to take time out, speak kindly to themselves and rest here now. These acts of self-compassion and wellbeing will then reflect out into other healthy relationships and the world.

My Qualifications
1994/97 – BA in Fine Art and Contemporary Critical Theory, Goldsmiths, London
2003 – Yoga Teacher Training, The Life Centre, London, UK
2005 – Intermediate & Pregnancy Yoga Training, Nicky Knoff,   Australia
2007 – Advanced Yoga Teacher Training, Donna Farhi,   New Zealand
2009 – Prenatal Yoga  Teacher Training, Janice Clarfield,   New Zealand
2012/2013 – Applied Yoga Anatomy – Practices, Leslie Kaminoff, The Breathing Space,  NYC
2013/14 – Level 1 & 2 iRest Certification with Dr. Richard Miller, Prema Yoga, Australia 
2016/18 – iRest Full certification